KWESTA'S RESPONSE TWEETS IN DEFENSE OF 5FM RADIO DJ
KWESTA found himself at the center of another race row with 5fm this week this time in defense of a DJ who was attacked on twitter by a listener who requested that the station " play decent music" instead of "Zulu and Xhosa rap." This was sparked when the fan complained about a Kwesta song on which he collaborated with pop rock trio CrashCarBurn was played on the 5FM Top 40 Charts show.
The rapper whose latest album was voted Best Hip-hop album at the Metro FM awards earlier this year is no stranger to controversy after he blasted 5FM for marginalizing black artists in a now infamous open letter that prompted the station to playlist more rap artists like Cassper Nyovest who thanked Kwesta in an interview with V-Entertainment after his smash hit Doc Shebeleza was play listed by the station, going on to summit the Top 40 Chart.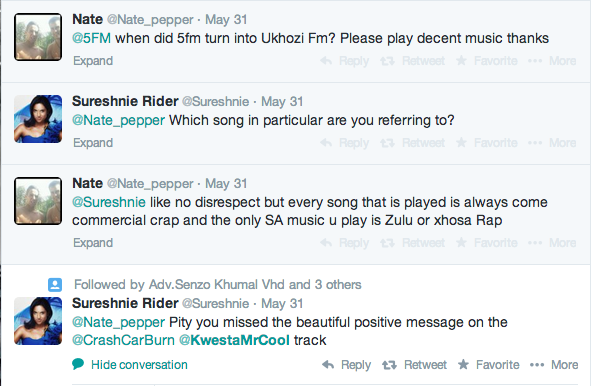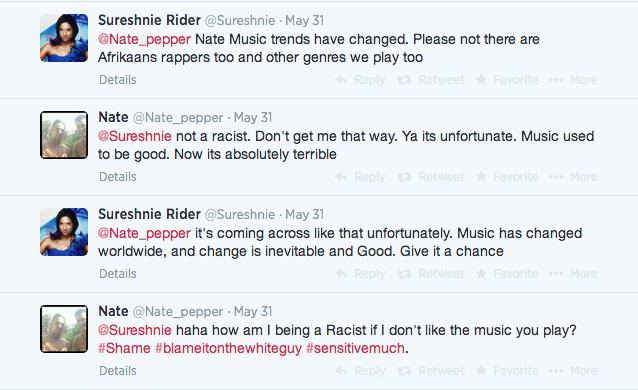 The self-proclaimed King of African Rap was lauded by many in the Hip-hop community including such artists as Tumi from the Volume, multi-award winning HHP, Slikour of Skwatta Kamp and super group Teargas among others….CaraCara vid below…

5FM has under gone a lot of changes since the open letter first made headlines… The departure of shock-jock Gareth Cliff prompted the station to poach some top talent from Gauteng youth station Y-FM in what appeared to the general public as an attempt to make the national youth station more inclusive of young black listeners. The line-up reshuffled which saw DJ Fresh move from the highly successful Drive time slot on which the legendary former YFM DJ pioneered the ultimix slot which has become the station's most popular feature of all-time. New faces at 5FM include DJ Warras and Tumi Voster who took over Roger Goode's show after the latter was promoted to a drive-time slot. Big Brother Mzansi contestant Sol Phenduka joined the Fresh breakfast team & his fellow YFM colleague Thando Thabethe now hosts the weekend day-time slot Beats By Demand on Sundays.This past weekend she announce that CaraCara by Teargas's KO which features Kid-X of Boom Shakalaka fame has been added to the play list. The song which Kwesta hailed as the biggest Hip-hop song in the country has been the top local song on the iTunes charts for some weeks now and is also at the centre of a row between Kwesta and rap superstar AKA whose single Congratulate was knocked of the number 1 spot by CaraCara. The much talked about beef was sparked when AKA took exception to Kwesta tweeting that Doc Shebeleza is the biggest song in the country followed by CaraCara. There's no love lost between AKA and Cassper Nyovest with them exchanging sub-tweets regularly and AKA going on Y-FM to say he's smarter than both Nyovest and Kwesta in a recent interview. Kwesta challenged AKA to settle their differences in a battle on the DJ Fresh breakfast show
AKA declined.
Booking Kwesta Contact: 071 519 9905 OR booking@djsproduction.co.za
Booking Teargas Contact: 071 519 9905 OR booking@djsproduction.co.za
Booking HHP Contact: 071 519 9905 OR booking@djsproduction.co.za
Booking AKA Contact: 071 519 9905 OR booking@djsproduction.co.za
Booking Warras Contact: 071 519 9905 OR booking@djsproduction.co.za
Booking K.O or Kid X Contact: 071 519 9905 OR booking@djsproduction.co.za
Booking Sol Phenduka Contact: 071 519 9905 OR booking@djsproduction.co.za