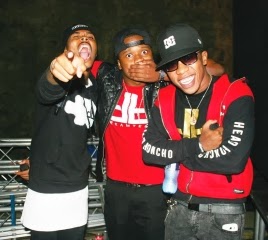 All eyes have been on this group of young Durban hip hop artists since they released their hit track,
Tsekede
.
The song took the music scene by storm last year and the group will be looking forward to 2014.
The three-member group is made up of Lusasa "Saso" Ngcobo, Trevor "Trey" Sineke and Mthokozisi "Dash" Mkhathini.
They started out in 2010 with the mixtape "
Blow Up"
which was well received, and the music video for
Ask Enibhadi
was an instant hit. Last year they got their first nomination at the South African Hip Hop Awards.
The group said they are motivated and inspired by their motto, "Team work makes the dream work".
Benny Maverick, Dream Team's manager, said: "These guys are talented and have brought something fresh into the scene." He said the group has been receiving positive feedback from all the events they have performed at so far. "Dream Team have struck up an excellent relationship with female fans, and that is always great when you are just starting out".
And Dash is quite an achiever…He was a finalist at the MTV Base presenter search in 2012!
He said his other dream is to become a television presenter one day. He would like to branch out into television, but for now his passion for music is his primary focus. Dash added: "Everybody must chase a dream to become successful in life and achieve goals by working together as a team."
(Dailysun article)
See below video by Dreamteam- Tsekede:
(Djs Production Bookings)