"BACK TO THE CITY YOUTH FESTIVAL"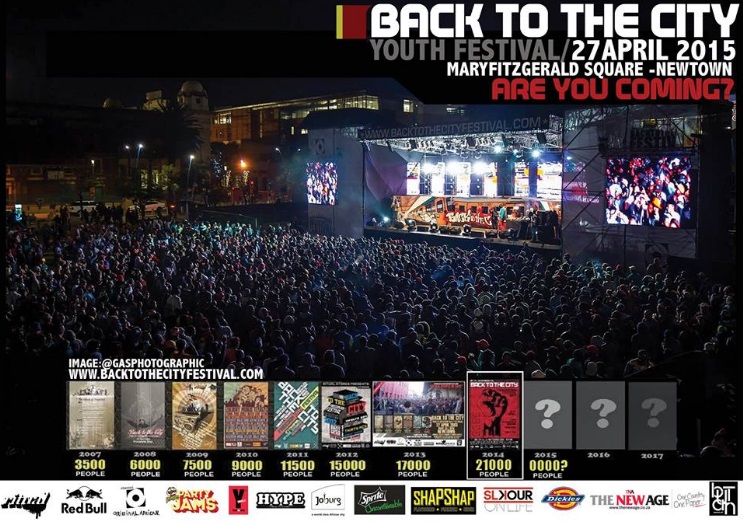 THE BIGGEST HIP HOP GATHERING IN AFRICA!!!
3 Stages
1 Suprise International Act
40 Local Mcs
12 DJS
12 Graffiti Crews
Bboys
6 Dance Crews
Bmxers
Skaters
Beatboxers
A Hip Hop Summit (Museum Africa)
A Beer Garden
A Game Zone
A Chill Zone
Hip-hop has emerged as the biggest musical story of the new millennium. What began as a form of ghetto youth expression has now grown into a multimillion dollar industry that has stretched to cities across Europe, Asia and of course Africa with Johannesburg being no exception. Hip hop's profile has steadily grown in South Africa but it's in the city of gold, Jozi maboneng, (the city of lights) where it has established an ever growing following. On Sunday the 27th of April the followers of this global phenomenon will descend on Henry Nxumalo Street in downtown Johannesburg for the eighth annual "Back to the City" festival.
Newtown will commemorate Freedom Day with thousands of youth celebrating the holiday through hip hop music. This year's Back to the City concert will feature some of the best hip hop artists in South Africa and will also comprise of other hip hop culture elements.
Annual Freedom Day Hip Hop Festival
Date: 27 April
Venue: Cnr. Bree & Henry Nxumalo, Newtown Johannesburg
Time: 10h00 – 00h00